Planting Guides for Clifton Heights
According to the USDA Clifton Heights is in USDA Zone 7a. Here is some general info for USDA Zone 7a to help you get started.
| | |
| --- | --- |
| Average Date of Last Frost (spring) | April 15 |
| Average Date of First Frost (fall) | October 15 |
| Lowest Expected Low | 0°F |
| Highest Expected Low | 5°F |
This means that on a really cold year, the coldest it will get is 0°F. On most years you should be prepared to experience lows near 5°F.
You can view the USDA Zone map for Pennsylvania here: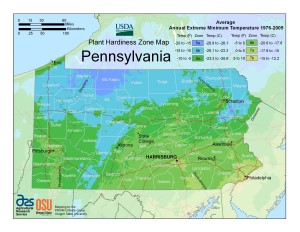 Below is a list of planting guides for Clifton Heights, PA. These guides are based on data from Zone 7a.